Furnace Installation in Milpitas
Expert Furnace Replacement in the Bay Area
Here at Comfort Energy, Inc., we handle all brands and types of furnace installation in Milpitas. Our heating specialists can take care of all your installation needs, keeping your home's furnace running efficiently and saving you money on your heating bills.
How Efficient Is Your Furnace?
You may be wondering if your furnace really needs to be replaced or installed with a new model, especially if it seems like the old one has been working just fine. However, it is important to realize that installing or renovating your home with the most contemporary version of cutting-edge furnaces can save you a lot of money on your energy bills! We have also provide a few signs on when it may be time to replace your furnace.
Signs You Need Furnace Replacement:
Furnace Is Nearing End of Lifespan -
If your furnace is nearing 15 years of age, chances are it isn't going to last that much longer. The older your furnace gets, the more likely you'll need to repair it and you may end up spending more than if you replaced it.
Energy Bills Increased -
If you notice that your energy bill has increased month over month, it may be time to replace your furnace. As your furnace gets older it becomes less efficient and when your furnace is less efficient it means it's going to take more energy to properly warm your home.
House Isn't Warm -
If you are feeling cold in your home even with the furnace on, it may be that your thermostat isn't adjusted properly, or it could be a problem with your furnace like an air leak in your air ducts.
Call us today at (408) 560-4050 to get a free consultation on any new furnace installations in Milpitas, Los Gatos, Los Altos, and beyond.
Your Neighbors Love Us Reviews From Our Satisfied Customers
"Overall, we felt like the price we paid was a great value. Highly recommend."

- Cheryl S.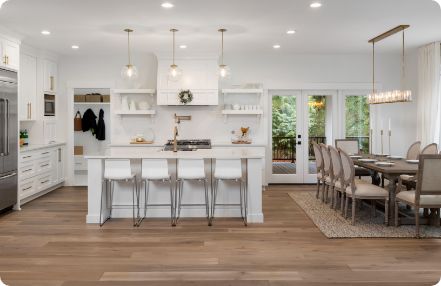 What is an AFUE Rating?
To give you an idea of what to look for, remember that your furnace's rating of efficiency, or AFUE (Annual Fuel Utilization Efficiency), tells you how efficiently your furnace uses fuels and energy sources like oil, electricity, or gas. You will discover that the higher your efficiency percentage, the less fuel your furnace will need to use to heat your home.
What is an HSPF Rating?
Furnaces all come with unique heating efficiency ratings labeled as HSPF (Heating Seasonal Performance Factor). Therefore, the higher your HSPF rating, the less electricity it will require to heat up your home. If you notice that your HPSF is low, it is time to get in touch with us about replacing your furnace.
Why Install a New Furnace?
High energy bills are definitely one reason you should consider installing a new furnace. However, having an old or malfunctioning furnace can cause other major problems as well. If your furnace is failing, this could lead to even more drastic consequences.
Just a Few of the Disadvantages of an Old Furnace Include:
---
Exacerbation of asthma or breathing issues
Release of extra gases
Spontaneous house fires
Gradual release of carbon monoxide, which slowly poisons occupants
Clearly, replacing your furnace is not only important to save your money, but to increase the safety of yourself and anyone living in or visiting your home.
How Can a Furnace Start a Fire?
Furnace fires can be caused by several factors, such as flame rollouts, overheating, and incorrect gas pressure. These issues are more likely to occur in older units.
Flame rollouts occur when flammable gases build up in the combustion chamber and will eventually ignite nearby materials, leading to potential fire.
Overheating can come from infrequent air filter changes that make the blower motor overwork and cause components to catch on fire.
Incorrect gas pressure is also a major contributor to furnace fires; if the pressure is too low, condensation could collect inside the heat exchanger and corrode it, making it weak and more prone to bursting into flames. If the pressure is too high in comparison, it may form soot on exchanger walls that could easily combust if sparked.
Homeowners should take caution in maintaining their furnaces by regularly checking its filters and monitoring gas pressure levels to ensure proper operation and safety of their homes.
Some people may hesitate on purchasing a new furnace, especially because the higher a unit's efficiency is, the higher the initial investment expense of the heating product will be. Soon, however, you'll see the higher cost of your high-efficiency heating unit paid back in a few short years in the form of your lower utility bills.
Most importantly, you and your family will be safe from dangerous hazards that come from failing furnaces, ensured by our trusty Milpitas furnace installation technicians at Comfort Energy, Inc. For all your heating needs, get in touch with our expert advisors.
The Name to Trust for Reliable Installations
Whether you are building your new home or simply replacing your existing furnace, you can depend on our contractors for reliable, efficient heating solutions that will last you for years to come. Enjoy the warmth of your new furnace, which will help you comfortably ride out your harshest Bay Area winter while you increase the resale value of your home.
Contact us now at (408) 560-4050 and see how easy it can be for you to start enjoying heated comfort at an even more comfortable price from your Milpitas heating specialists.
We Care About Your Air Our Values Set Us Apart
It may sound simple, but unlike our competition, we make ourselves accessible. We're here to help!

We show up on-time and our experts always strive to get the job done as quickly and efficiently as possible!

Our Technicians will go above and beyond to assure all of your home's needs are taken care of!

Free In-Person Estimates Available

We understand that a new system is costly. We provide free estimates for all new installs and replacements.

We value our customers and do whatever we can to provide 100% customer satisfaction with every service!

We are a green company and strive to create energy-efficient homes that promote your family's health and safety.
Ready to Return to Comfort? Call
(408) 560-4050

to schedule a service today!