Radiant Floor Heating Services in Milpitas
Installing High-Efficiency Heating Systems in the Bay Area for 30+ Years
Have you ever walked into a deceptively warm and comfortable room, only to sit on a chair and find it absolutely freezing? One of the disadvantages of traditional convection heating is that the heaters only warm up the air in the room, not the actual objects themselves. The balmy air tricks your skin into thinking that the entire environment is comfortable, until the moment you actually touch another object, from the freezing leather couch in your living room to the icy marble floor.
Contact Comfort Energy, Inc. at (408) 560-4050 for the best radiant floor heating services in Milpitas, Los Gatos & beyond.
Your Neighbors Love Us Reviews From Our Satisfied Customers
"Quick with his diagnostics and presented the quote to repair."

- Marc P.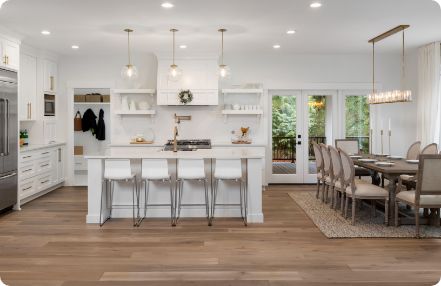 Introducing Radiant Floor Heating Systems
Fortunately, there is a solution to the above-mentioned problem that can keep your toes warm even in the coldest of winters – a solution that was actually invented thousands of years ago. Around the first century, ancient Roman civilians kept their homes warm by directing hot natural gas through tunnels and conduits under marble floors. This was particularly convenient in Italian towns like Pompeii and Stromboli, where natural springs and gas sources were plentiful.
Modern technology has allowed us to adopt this concept through the innovation of radiant heat, which allows heated water to flow through tubes beneath the floor. This system has all the benefits of the Roman invention, without the threat of a volcanic explosion or underground flood! If you're looking for radiant heating services in Milpitas, our heating specialists at Comfort Energy, Inc. can immediately install this contemporary innovation that keeps you warm all winter.
Types of Radiant Heating
Two main types of radiant heating are commonly used today. Each type serves a distinct environment for different structural purposes. Our technicians can help you decide which better serves the particular layout of your property.
Types of Radiant Heat Systems:
---
Hydronic or water radiant heating – This type of heater best suits residential homes. It is extremely efficient in energy usage as well as cost-effective for those living in areas with colder climates. Insulated tubes carry water from the boiler by the use of zoning valves, and the temperature of this water is regulated by a thermostat.
Electric radiant heating – To install this system, engineers will either lay out systems of electrical cables in a network that spreads across the floor or use plastic mats that specially conduct electricity beneath the floors tiles. This option is not recommended for residential homes due to its high cost, but works very well for commercial properties, or in residences with very thick concrete floors that can store heat for ten hours.
Radiant Floor Heating FAQs
What Flooring Type Is Best For Radiant Heating?
There are a variety of floor types one can use with radiant heating, whether you're using stone and tiles, wood flooring, or carpet. Depending on the flooring type, our team will make recommendations to ensure your flooring is adequately heated and comfortable.
How Long Does Radiant Floor Heating Take to Warm Up?
Well, it depends on a few core factors including the size of the room, flooring finish and type, and insultation of the space. If you'd like a more specific answer based on your space, contact us to schedule a pricing estimate.
Benefits of Radiant Heating
There are several advantages of radiant heating that make it an efficient, healthier option than other types of heating.
Popular Reasons for Acquiring Radiant Heat Include:
---
Direct heat across the floor, ensuring maximum warmth
Connective warmth from floors to surrounding objects, including couches and chairs
Limited energy losses from gaps in ducts or vents
Zero allergen distribution, unlike forced air systems, thus helping air quality for people susceptible to skin allergies or breathing issues
Decreased electricity usage in exchange for more natural sources, including solar or water energy
Contemporary and Custom-Made
If you are seeking radiant floor heating services in Milpitas, you can count on our heating specialists to make all your dreams of coziness and comfort come true. We will use the most reliable applications of advanced modern technology to customize your home.
Contact us today to receive unsurpassed warmth from your reliable technicians at Comfort Energy, Inc.
We Care About Your Air Our Values Set Us Apart
It may sound simple, but unlike our competition, we make ourselves accessible. We're here to help!

We show up on-time and our experts always strive to get the job done as quickly and efficiently as possible!

Our Technicians will go above and beyond to assure all of your home's needs are taken care of!

Free In-Person Estimates Available

We understand that a new system is costly. We provide free estimates for all new installs and replacements.

We value our customers and do whatever we can to provide 100% customer satisfaction with every service!

We are a green company and strive to create energy-efficient homes that promote your family's health and safety.
Ready to Return to Comfort? Call
(408) 560-4050

to schedule a service today!