Your Partner for Green Comfort Multi Zone Heating & Cooling
Request Service
Multi-Zone HVAC System Installation in Milpitas
Get Better Climate Control & Save Money!
Have you ever had a household disagreement over what temperature your home should be? If you'd rather end the constant battle over the thermostat, Comfort Energy, Inc. has a solution for you: HVAC zoning systems. Zoned heating and cooling systems allow you to divide your home into areas with similar needs for heating and cooling, with each zone controlled by its own separate thermostat. Not only does this allow more control over your comfort from room to room, but you can also reap the added benefit of improved energy efficiency, which translates to savings!
To schedule multi-zone heating and cooling installation in Milpitas or anywhere in the South Bay Area, call (408) 560-4050 or contact us online.
Can You Add Zones to An Existing HVAC System?
Yes, it is possible to add zones to an existing HVAC system. Adding new zones requires a zoning system and dampers installed into the ductwork. A zoning system uses sensors placed in each zone to measure temperature, humidity and other environmental factors. The sensors send information back to a control panel which adjusts the air flow of each zone by opening and closing the dampers. This allows you to have precise control over the temperature and comfort level of each zone, as well as reducing energy costs by only heating or cooling specific areas when needed.
Your Neighbors Love Us Reviews From Our Satisfied Customers
"I definitely recommend these guys and I will definitely use them again for other plumbing projects."

- Elliot K.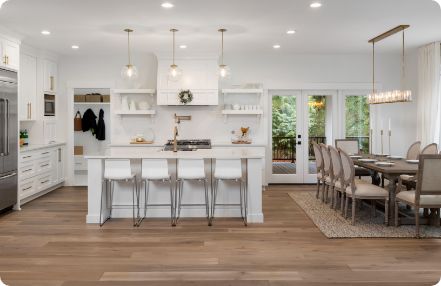 The Benefits of Multi-Zone Heating & Cooling
Your central heating or cooling unit pushes air throughout the entirety of your home, even the rooms that are empty the majority of the time. Why spend money conditioning the air in rooms you aren't even using? Multi-zone systems give you control over which rooms to heat or cool, and when.
Advantages of installing a multi-zone HVAC system:
---
Protecting family members who may have temperature sensitivities due to respiratory conditions
Ending long fights over what temperature to set the thermostat to
Increased home comfort due to more flexibility
Energy savings due to no longer heating or cooling rooms not in use
Money savings due to directing all of the airflow to the most used rooms
Types of HVAC Zoning Systems
Depending on the size and configuration of your home, there are two different possibilities for zoning systems.
These Zoning Systems Include:
---
Ductless systems: If you're not looking to do a complete overhaul of your current system, or you just want to add more temperature control to a specific room of your home, this system doesn't connect to your central unit. You can install multiple systems to create specific zones in your home.
Systems that connect to your central HVAC unit: By retrofitting your current central HVAC set up, you can install additional components that create zones within your home. This isn't a lengthy project and it can be completed quite quickly. You will have to install additional thermostats throughout your home and a zone control panel. Our Milpitas multi-zone heating and cooling technicians will also have to install dampers, which direct the cooled air to different parts of your home.
Improve Your Home Comfort & Call Us Today!
At Comfort Energy, Inc., you can rest easy knowing that all of our technicians are licensed, bonded, and insured. We can assist you with all of your HVAC zoning system repair and installation needs. When you work with us, your satisfaction is guaranteed.
For more information, give our Milpitas heating and cooling experts a call at (408) 560-4050 today or contact us online.
We Care About Your Air Our Values Set Us Apart
It may sound simple, but unlike our competition, we make ourselves accessible. We're here to help!

We show up on-time and our experts always strive to get the job done as quickly and efficiently as possible!

Our Technicians will go above and beyond to assure all of your home's needs are taken care of!

Free In-Person Estimates Available

We understand that a new system is costly. We provide free estimates for all new installs and replacements.

We value our customers and do whatever we can to provide 100% customer satisfaction with every service!

We are a green company and strive to create energy-efficient homes that promote your family's health and safety.
Ready to Return to Comfort? Call
(408) 560-4050

to schedule a service today!