Your Partner for Green Comfort Tankless Water Heater Installation & Repair
Request Service
Tankless Water Heater Installation in Milpitas
On Demand Hot Water Systems in the Bay Area
If you are noticing that your current water heater system is running slowly or seems to be malfunctioning, this is a sign that you should look into installing a tankless water heater or repairing an older model. Also known as "instant water heaters," these amazing innovations of heating technology are especially perfect for those freezing winter days when the shower is taking forever to heat up.
Our Milpitas tankless water heater installation experts at Comfort Energy, Inc. can work with you to find the most cutting-edge option to suit all your heating needs.
Call us today at (408) 560-4050 to find out more about our innovative tankless water heaters in Milpitas.
Your Neighbors Love Us Reviews From Our Satisfied Customers
"The system works really well now and heats up all areas of the house thanks to Jimmy's attention to detail. Highly recommended!"

- Arj U.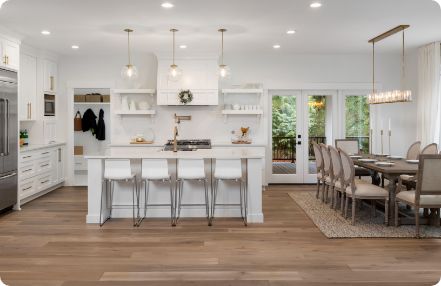 Advantages of Tankless Water Heaters
You may be wondering if tankless water heaters really have that much more advantage over traditional water heaters. Besides heating water more rapidly, what else do these tankless wonders do?
Benefits of tankless hot water heaters include:
---
Precision in amounts of water heated – Since the tankless heater's coils can instantaneously heat water, you no longer have to heat entire, massive tanks.
Dramatically reduced energy usage – A tankless heater does not have to be continuously heated, and only operates when you need it. This saves up to 34% more than traditional heaters' energy usage.
Compact size – Since the coils are much smaller, and because you do not need to fill large tanks of water at a time, a tankless unit is much more compact and easy to store in smaller spaces.
Ensured safety – A traditional water heater needs to be turned off if you are leaving for extended periods of time in case of leaks and flooding. A tankless heater eliminates this issue and protects your property's safety more efficiently.
Key Differences Between Traditional & Tankless Water Heaters
Traditional water heaters all come with a single large tank that is continuously filled with hot water. They tend to be extremely large, resembling those huge cylindrical containers your paranoid uncle used to store water for the Y2K apocalypse. The size of these heaters makes them unwieldy and cumbersome, so owners usually resort to storing these tanks in the basement or attic if they can afford the space. In order to heat water, the tanks must be constantly running, or the water will soon return to its normal temperature.
In contrast, tankless water heaters activate a small set of coils that immediately become hot when the unit is switched on. This heats the water passing over the coils instantaneously. The unit's control easily sets the precise temperature that the water will need to be, determining how hot the coils will become.
Going Green & Saving Green
One of the most important aspects of a tankless water heater is that it saves far more energy than traditional water heaters, and saving energy means saving money. However, you will not only be saving your wallet, but greatly contributing to reducing damage to the environment by getting tankless water heater installation and repair in Milpitas, Los Gatos, and the nearby areas.
Contact us now at (408) 560-4050 for our qualified, reliable tankless water heater installation services in Milpitas.
We Care About Your Air Our Values Set Us Apart
It may sound simple, but unlike our competition, we make ourselves accessible. We're here to help!

We show up on-time and our experts always strive to get the job done as quickly and efficiently as possible!

Our Technicians will go above and beyond to assure all of your home's needs are taken care of!

Free In-Person Estimates Available

We understand that a new system is costly. We provide free estimates for all new installs and replacements.

We value our customers and do whatever we can to provide 100% customer satisfaction with every service!

We are a green company and strive to create energy-efficient homes that promote your family's health and safety.
Ready to Return to Comfort? Call
(408) 560-4050

to schedule a service today!