Professional Service & Maintenance in the Bay Area
Having a problem with your air conditioner? Don't sweat it; Comfort Energy, Inc. provides top quality AC repair in Milpitas and surrounding areas. Our technicians have over 30 years of experience and are continually trained to provide top quality workmanship and excellent customer service. We are capable of working on any make, model, brand, or type of air conditioning unit from central to hybrid to ductless systems.
We'll get the job completed on time and as quickly as possible. Reach out to Milpitas AC repair team by calling (408) 560-4050 or filling out our online contact form.
Your Neighbors Love Us Read Reviews From Our Satisfied Customers
"I love this guy and by extension this company. Highly recommend !"

- Patricia I.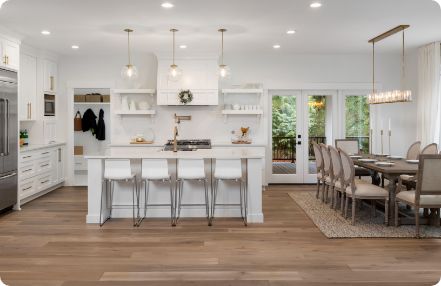 Common Symptoms of Broken Air Conditioners
A broken air conditioner is a major inconvenience. Whether you have a central unit or a ductless system, many parts and components can wear out or break. At Comfort Energy, Inc., our Milpitas AC repair specialists will thoroughly inspect your unit and determine what needs to be done in order to get it back up and running efficiently for years to come. While it may be difficult for someone untrained to determine exactly what's wrong with their unit, it's helpful to know common symptoms that your air conditioner is not working as it should.
These Symptoms Include:
---
Your unit makes strange noises: If you hear a wailing, grinding, squealing, or grating sound, you can rest easy knowing that it's not a poltergeist. Rather, it's your air conditioner. Anytime your blower motor malfunctions or something is caught in it, it will cause your system to make these odd noises. The longer you go without AC repairs, the louder these noises will get until they're hard to ignore. Anytime you hear your unit making any odd noises, it's important that you call us right away. The sooner repairs are done, the more you will protect your unit from being completely destroyed.
Your unit doesn't produce cool air from the vents when it's turned on, it cannot meet the temperature you set on the thermostat, or air is only coming from limited vents: Unfortunately, there are many possible causes for such issues. One reason that we tend to see a lot is improperly sized units. If your unit is not large enough to compete with your property's cooling demands, it will not be able to meet the temperature you set. When we arrive at your property, we will use state-of-the-art tools to perform an inspection and get to the bottom of the matter.
Your unit has frozen coils: Can you remember the last time you had your air filters changed? If you cannot, then it probably is the reason for your frozen coils. However, this isn't the only cause of this issue. It could also be a result of leaking refrigerant.
Your unit is leaking water from ducts or vents: This is an urgent matter that needs to be handled right away. Not only does a leak prevent your unit from functioning and keeping you cool, but the excess moisture creates the perfect breeding ground for mold and mildew. Not only that, the longer your unit continues to leak, the more your property is susceptible to water damage.
Why is My AC Running But Not Cooling?
If your air conditioner is running but not cooling, there could be a few different causes.
First, you should check to see if the thermostat is set correctly and that it's not set to 'heat' or 'off'.
You should also check the air filter. A clogged or dirty filter will reduce airflow and make your AC less efficient at cooling. If the filter looks dirty, replace it with a clean one.
Another possible reason for an AC running but not cooling is if the unit has frozen up due to a lack of airflow. In this case, you should turn off the power to the AC unit and let it thaw out so that melted ice can be properly drained out, and see if it's a one-time problem.
If these steps don't help solve your problem then you may need to call in an HVAC technician as they are trained to diagnose and repair more complex AC system issues like low refrigerant levels or other mechanical problems which can prevent your system from operating properly.
Regardless of the issue you're having, it's important that you call us for repairs right away. Left alone, these symptoms will get worse until it's no longer possible to repair your system and a replacement will be necessary.
Why Hire Comfort Energy, Inc.?
Our professionals have years of experience in the HVAC field and this allows us to complete our projects on time and with unmatched quality. We give the attention to detail to your AC repair that you should expect from professionals.
Our main focus is always to please our clients. This is why Bay Area home and business owners have come to rely on us for an unsurpassed service experience. From start to finish, our Milpitas AC repair technicians will work with you every step of the way. Our goal is to ensure that our repairs are completed just the way you expect it.
Find out for yourself why we were the 2019 Best of HomeAdvisor Winner. Call (408) 560-4050 today for quality AC repair in Milpitas, Saratoga, Los Gatos, and beyond.
We Care About Your Air Our Values Set Us Apart
It may sound simple, but unlike our competition, we make ourselves accessible. We're here to help!

We show up on-time and our experts always strive to get the job done as quickly and efficiently as possible!

Our Technicians will go above and beyond to assure all of your home's needs are taken care of!

Free In-Person Estimates Available

We understand that a new system is costly. We provide free estimates for all new installs and replacements.

We value our customers and do whatever we can to provide 100% customer satisfaction with every service!

We are a green company and strive to create energy-efficient homes that promote your family's health and safety.
Ready to Return to Comfort? Call
(408) 560-4050

to schedule a service today!