Dependable Furnace Solutions in the Bay Area
While everyone considers the golden state of California to be constantly sunny and warm all year round, those who make this assumption clearly have never visited the Bay Area during winter. Due to its proximity to the Pacific Ocean and the cool, moist airflow that forms in the foggy atmosphere, Milpitas can already be chilly even during certain parts of the summer. During the winter, however, the wind can become even more biting, and woe to anyone whose furnace is not working in the months between November and February!
Call today at (408) 560-4050 for complete and reliable service for any of your Milpitas furnace repair needs.
Your Neighbors Love Us Reviews From Our Satisfied Customers
"Highly recommended."

- Katha K.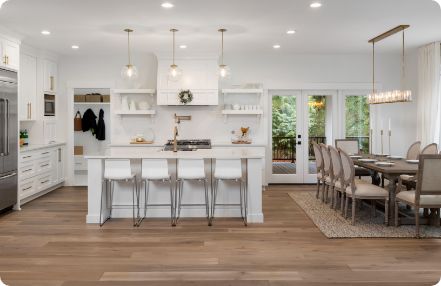 Signs Your Furnace Needs to Be Repaired
Unless you are professionally qualified, it is usually impossible to figure precisely how your furnace needs to be fixed. You may be suspicious that something is wrong, but to accurately assess the problem, it is always crucial to have one of our heating experts make a complete, detailed evaluation. That being said, there are certain warning signals which can help inform you that it is definitely time to call in a professional.
Signs Your Furnace Needs Repair:
---
Short-Cycling -
If your furnace is turning on and off frequently, this could be a sign that your system is short-cycling. This problem is wasteful and doesn't help your home ever reach the desired temperature you want.
Strange sounds, whether grinding, hissing, or squealing, emitted from the furnace -
If you notice your furnace making strange noises like screeching or banging, it could be a loose belt or even a motor that is going out. Contact us for professional furnace repair.
Suddenly increasing energy bills without increased usage -
If you notice an increase on your energy bill it could be that your furnace is in need of repair. Often your furnace will have to work twice as hard in order to provide the proper heat to your home when it is in need of repair.
All of these examples are key indicators of potential malfunctions in your furnace. However, if you are wary and catch these signals in time, you can get your heating unit repaired before even worse consequences take place.
Types of Furnace Repairs
Once you have noticed some potential troubles regarding your furnace unit, you can call our offices and immediately get one of our Milpitas heater repair technicians to begin resolving your heating issues.
While There Are Many More Examples of Repairs We Can Conduct for Our Clients, the Most Common of These Include:
---
Detecting furnace parts' deterioration and replacing them with new parts
Identifying and resolving ignition failures
Repairing inaccuracies in thermostat measurements and readings
Resolving strange sounds like squealing or hissing
Halting automatic switches between off and on modes, thus increasing efficiency
Safe & Speedy Repairs
If one or more of these issues is plaguing your furnace unit today, you can rest assured that our highly experienced heating and cooling technicians can swiftly identify and repair any problems at a moment's notice. We are aware that such issues may not only cause minor physical discomfort and major costs, but can even be hazardous to your health. Therefore, we are always determined and ready to take immediate steps in resolving any furnace repairs in Milpitas, Saratoga, and throughout the Bay Area.
Ready to Repair All Your Furnace Issues
If you are noticing that your furnace is having issues in running efficiently, or even if it is simply an older model, it is far more likely to need repairs. These should always be done as soon as possible, not only to save you wasting a lot of energy and money in the process, but because faulty furnaces can cause multiple health hazards as well. Getting in touch with one of our heating specialists about Milpitas furnace repair can save you a lot of trouble in the long run. Comfort Energy, Inc. is ready right now to ensure both your comfort and your safety.
Contact us now at (408) 560-4050 to receive empathetic service with integrity from our highly trained Milpitas heating specialists at Comfort Energy, Inc..
We Care About Your Air Our Values Set Us Apart
It may sound simple, but unlike our competition, we make ourselves accessible. We're here to help!

We show up on-time and our experts always strive to get the job done as quickly and efficiently as possible!

Our Technicians will go above and beyond to assure all of your home's needs are taken care of!

Free In-Person Estimates Available

We understand that a new system is costly. We provide free estimates for all new installs and replacements.

We value our customers and do whatever we can to provide 100% customer satisfaction with every service!

We are a green company and strive to create energy-efficient homes that promote your family's health and safety.
Ready to Return to Comfort? Call
(408) 560-4050

to schedule a service today!