Los Altos Design/Build HVAC Services
Our Team Comes Highly Reviewed
With the competition in today's marketplace, Comfort Energy, Inc. recognizes the importance of efficiency. That is why our Los Altos design/build service team utilizes up-to-date technologies to help us manage projects. From estimating to scheduling to accounting, our integrated management allows us to operate a lean and efficient electrical project.
Design/build services exist to provide substitute facility solutions to clients throughout the business sectors in the Bay Area, including Saratoga, Los Gatos, Atherton, Hillsborough, and Portola Valley. Your construction project success will be accomplished by selecting the appropriate team members.
Our comprehensive project delivery system can incorporate any or all of the following under one contract for total project accountability:
Planning
Financing
Acquisitions
Design
Engineering
Construction activities
This integrated approach where all team members buy into the success of the project provides for a well-organized project delivery system by reducing time, risks, redundancies in fees, administrative costs, and contingencies. In addition, project objectives are developed simultaneously with the design and financial comparisons necessary to support facility decisions.
Every project requires specific technical knowledge and expertise to support the planning, design, and implementation activities.
We recognize that our clients have resource-specific requirements, internal resources, and previous professional relationships.
For more information on our new HVAC construction services, reach out to us by calling (408) 560-4050 or sending us a message online. We can assist customers across the Bay Area, including Saratoga, Los Gatos, Atherton, Hillsborough, and Portola Valley.
Your Neighbors Love Us Reviews From Our Satisfied Customers
"I love this guy and by extension this company. Highly recommend !"

- Patricia I.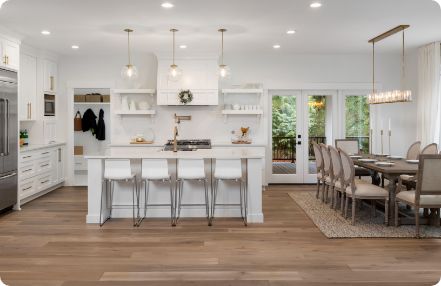 What Our Los Altos Design/Build Contractor Provides
At Comfort Energy, Inc., we pride ourselves on our wide range of services and industry knowledge.
Our design/build contractor is capable of assisting with the following projects:
Green design buildings
Designing an entire building
Design/build construction
Residential design/build
Interior design building
Why You Should Hire Us For Your Design/Build Project
We provide you with a clear contract and a fixed price. You won't end up with an unexpected bill at the end of the job. Sometimes things are hidden in remodeling projects or you might decide to upgrade your flooring. We provide written change orders showing the cost of such changes before the work is done. We handle all phases of the job, from getting permits to final cleaning. You can depend on us to do it all.
Our exceptional team of remodeling contractors has been carefully selected to reflect our company's core values of honesty, integrity, and excellence.
To get started, just give us a call at (408) 560-4050. We'll always pick up the phone.
For Ultimate Savings on Preventative Maintenance, Check Out Our Service Partner Plan!
Our goal is to save you time and money while providing constant peace of mind. To learn more about the discounts and benefits we offer, click below or give us a call today!
Learn More
Ready to Return to Comfort? Call (408) 560-4050 to schedule a service today!