Milpitas Ductless Mini-Split Services
Serving the Bay Area with 30+ Years of Industry Experience
A great alternative to the traditional central AC unit is the ductless unit, commonly known as "mini-split" systems. These systems are composed of an external condenser and an internal evaporator coil. The units are connected by copper tubing and electrical wires that can all pass through a single hole three inches wide. Because it is so compact, it is much more portable and maneuverable than a traditional central air unit, which makes it more convenient and cost-effective for homes and businesses alike.
If you need repair for your ductless air conditioner or are interested in installing a mini-split for the first time, you've come to the right place!
Call Comfort Energy, Inc. today at (408) 560-4050 for expert ductless mini-split installations in Milpitas, San Jose, Los Altos, Saratoga, or nearby.
Your Neighbors Love Us Reviews From Our Satisfied Customers
"Project was completed 3 days ahead of schedule. Very satisfied with a job well done."

- Thomas S.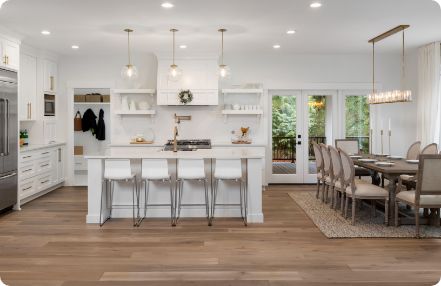 Reasons to Consider a Mini-Split System
One reason you may be desiring a mini-split system is the fact that you and other occupants in your home or commercial building require different temperature levels to suit your individual needs. However, there are other important reasons you might want to consider installing a mini-split system.
Ductless AC offers a number of benefits, including:
---
Less noise – Traditional central AC units tend to be a lot noisier on account of their size and the amount of air that they need to blow around large rooms and buildings.
Compact size – Central air conditioners take up a lot of space and are often both unattractive and inconvenient. Due to their size, they typically have to be placed in a highly visible location, which makes passing by them both awkward and unsightly. Ductless systems, on the other hand, are sleek and compact.
Efficient energy usage – Because ductless systems don't have to spread heated or cooled air across a large space or several rooms and the temperature can be controlled room by room, they are more efficient than central AC systems.
Lower energy bills – Because energy usage is so efficient, ductless mini splits can help you save money on your monthly bills.
Contact us today if you are looking for convenient and efficient ductless mini-split services in Milpitas and throughout the South Bay Area .
Benefits of Professional Ductless Mini-Split Installation
While one benefit of a ductless system is of course heating and cooling different rooms at different temperatures, there are several other advantages as well. Not only will you exponentially multiply the comforts of a traditional central air unit, you can enjoy this cutting-edge technology at a fraction of the original cost.
Our expert technicians can place indoor units wherever is most convenient and flexible for your needs – they can be perched on walls, tucked away in cabinets, and hidden in closets, completely out of the way. Our AC specialists at Comfort Energy, Inc. can install these compact units to be practically noiseless, which gives you the benefit of feeling the difference without having to hear it!
We Care About Your Air Our Values Set Us Apart
It may sound simple, but unlike our competition, we make ourselves accessible. We're here to help!

We show up on-time and our experts always strive to get the job done as quickly and efficiently as possible!

Our Technicians will go above and beyond to assure all of your home's needs are taken care of!

Free In-Person Estimates Available

We understand that a new system is costly. We provide free estimates for all new installs and replacements.

We value our customers and do whatever we can to provide 100% customer satisfaction with every service!

We are a green company and strive to create energy-efficient homes that promote your family's health and safety.
Ready to Return to Comfort? Call
(408) 560-4050

to schedule a service today!